TANKLESS & HYBRID WATER HEATERS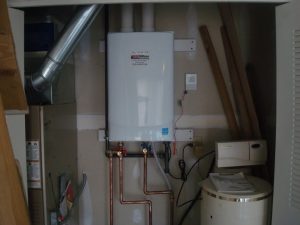 Aren't you fed up with the challenge of the "hot water schedule" in your house?
That's when you can't run the dishwasher until the last washer load of towels finishes. Or you have to flip a coin to see who gets the shower first after you both get home from your workout at the same time!
F&S Williams has answers for a better and continuous flow of hot water in your home. Why not try a tankless water heater?
If you are avoiding looking into a tankless water heater solution because you think you'll have to "start from scratch" on your current configuration, F&S has information that will help ease your mind and get you started on a new policy of "hot water for all!" in your home.
F&S Williams trusts the best brands in the industry like Navien and Rinnai.
You're gonna say "YES!" to tankless water heater answers from F&S Williams! Contact us today!